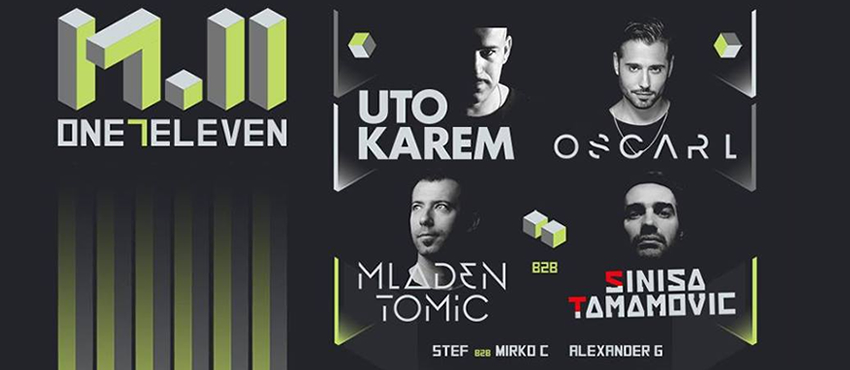 ONE 7 ELEVEN - BANJA LUKA @Univerzitetska sportska dvorana Univerziteta u Banjoj Luci
Datum: 17/11
Mjesto: Univerzitetska sportska dvorana Univerziteta u Banjoj Luci, BANJA LUKA
Povodom Međunarodnog dana studenata 17.11. Unija studenata Republike Srpske i Studentski parlament Univerziteta u Banjoj Luci organizuju veliki party u Univerzitetskoj sportskoj dvorani.
Na ovaj datum se obilježava godišnjica nacističkog napada na Praški univerzitet 1939, nakon protesta povodom smrti studenta Jana Opletala i radnika Václava Sedláčeka, te demonstracija nakon okupacije Čehoslovačke i pogubljenja devet vođa studenata, slanja preko 1200 studenata u koncentracijske logore, i gašenja čeških univerziteta i viših škola.
Nastupaju:
UTO KAREM /Agile, Plus 8, Sci+Tec / Italy
https://www.facebook.com/

UtoKarem
https://soundcloud.com/

uto-karem
MLADEN TOMIC /Night Light, Sci+Tec, Suara, Terminal M / BiH
h

ttps://www.facebook.com/

djmladentomic



https://soundcloud.com/

mladentomic
b2b
SINISA TAMAMOVIC /Night Light, Sci+Tec, Plus 8, Mindshake / BiH


https://www.facebook.com/

djsinisatamamovic/


https://soundcloud.com/

djsinisatamamovic

OSCAR L /Suara, Truesoul, Stereo Productions / Spain


https://www.facebook.com/

oscarldj/


https://soundcloud.com/

oscarl

Alexander G / Exposure / BiH


https://www.facebook.com/

djalexanderg/


https://soundcloud.com/

djalexbl

Stef b2b Mirko C / Green Eco Fest / BiH


https://www.facebook.com/

nkszcollective/



UTO KAREM

Performing restlessly worldwide for over a decade as well as producing hit after hit for legendary labels, alongside running his own imprint Agile Recordings.

Being a DJ, producer, label manager, computer music editor and after almost 20 years behind the decks, Uto Karem has a broad vision on techno music and has become a reference internationally.

Over the last decade he has been busy performing restlessly across Europe, America and Asia as well as producing hit after hit for legendary labels such as Plus 8, SCI-TEC, Tronic, Definitive, Global Underground, H-Productions, Suara or Ministry of Sound, with his unique trademark of groove induced, high-energy tracks that have become staples for DJs everywhere. His music has been played and supported by the likes of Carl Cox, Richie Hawtin, Dubfire, Marco Carola, John Digweed, John Acquaviva, Umek and Luciano just to name a few.

Uto's artistic career has been growing up year after year which lead him to appear in many of the major techno festivals and parties worldwide, like Miami Utra Music Festival, Tomorrowland Belgium, Carl Cox The Revolution Ibiza, Pacha London, Aquasella Festival Spain, Space Ibiza Closing Party, Soul Tech festival Mexico, Rex Club Paris and Watergate Berlin.

OSCAR L

With more than 10 years of international experience behind him, Oscar L is one of the essential names of the Iberian electronic scene. Personality, perseverance and energy define him and are qualities that are also found in his particular sound, a combination of influences and peculiarities that have caught the attention of the best labels on the globe, such as Suara, Toolroom, Truesoul, 1605, Stereo or Material, amongst others, all of them being connoisseurs of the talent and the effectiveness that the productions of the Spanish artist reunite.
A tasteful mixture that have been used to put a good handful of tracks at the top of the Techno and House charts. These capabilities have given Oscar the opportunity to travel the world making the most diverse audiences dance. Dozens of cities from different continents throughout the world have enjoyed the intensity and warmth that his sets transmit to the dance floor. But the diffusion of his music does not end there, for a few years now, Oscar has also been directing his own radio show, D-Mix, which is broadcasted in 16 countries through 90 different stations. Oscar L's professional framework continues to expand, foreshadowing a prolific future and a privileged position amongst the most outstanding figures of his country.

MLADEN TOMIC

A hypnotic compound of techno and tech-house, further enhanced by the powerful groove and bass lines which characterise the sets of Mladen Tomic, Bosnian DJ and producer, who has won the hearts of clubbers across the globe.
You will recognize his uncompromising sound and strong energy, which is woven into every one of sets. The carefully selected compositions. The unique production. The strong personal touch, whether in production, the mix or the re-mix.

His personal work, recognised and supported by both prominent artists and owners of famous record labels such as Dubfire, Richie Hawtin, John Acquaviva, Monika Kruse, Umek, Popof, Adam Beyer, Stefano Noferini and others, have catapulted him to among the best, and opened the doors of the most prestigious clubs and festivals around the world.

Performances all over Europe (Germany, Spain, Netherlands, France, Austria, Czech Republic, Italy, Greece, Slovenia, England, Scotland, Hungary, Bulgaria, Belgium ...), America (USA, Colombia, Mexico, Costa Rica) and Canada are testimony of that.
The ever growing list of festivals whose line-up includes Mladen's name is even more impressive: Miami WMC 2013 and 2014 (US), EXIT - Dance Arena (Serbia), Soul Tech and Selenic Beach (Mexico), Kazantip (Ukraine), Stereo Sunday ( the Netherlands), Amsterdam Dance Event (Netherlands), Refresh (Montenegro) amongst many others.

With a highly acclaimed series of original tracks, production is still the centre of Mladen's business with regular releases on renowned labels such as Sci + Tec, Suara, Definitive Recordings, Terminal M, 1605, Octopus, 100% Pure, Deeperfect and Stereo Productions.

SINISA TAMAMOVIC

Sensing the call of the beat in the deep, tech and techno sound that swept the continent in the late 1990s, Bosnian knob-twiddler Sinisa Tamamovic hit his own decks with an endless string of gigs in his hometown of Banja Luka, Bosnia And Herzegovina. Nearly ten years on, Sinisa has established a reputation for throwing mind-numbing parties across Europe, attracting a legion of followers willing to cross borders to get a taste of his twisted techno, tech-house and minimal beats. Since 1999 Sinisa has successfully partnered with fellow Banja Luka DJ Mladen Tomic in their URBAN BEAT organization. Quickly recognizing a niche to fill in the recovering Bosnia, Urban Beat has evolved as probably the country's foremost promoter of events and parties by booking top drawer international names to satisfy a hungry home crowd.

Sinisa has drawn a legion of followers by playing at numerous countries worldwide like Scotland, England, France, Italy, Germany, Hungary, Spain, Holland, Austria, Mexico, Costa Rica, United States, Ukraine, Switzerland, Czech Republic, Bulgaria, Slovakia, Slovenia, Serbia, Croatia, Macedonia, Bosnia And Herzegovina etc. He played a few times at one of the biggest European festival, one being 'Exit' in Serbia to the most crazy places for partying like Kazantip Festival in Ukraine.

Since 2011 Sinisa is now evolving from his new base in London, UK.

His first original vinyl release came in December 2005. Since then, Sinisa has put out a stream of original tracks and remixes for the biggest international names and labels.In 2011, he continues with upcoming releases on Dubfire's legendary label SCI+TEC Digital Audio and Umek's 1605 Music Therapy , Mindshake Records, Plus 8 Records as well as expanding his own label Night Light Records with fresh talent and renowned names.

#One7eleven #utokarem #oscarl #sinisatamamovic #mladentomic #party#techno #banjaluka
Prodajna mjesta
Pored online kupovine svoje karte možete kupiti i na našim prodajnim mjestima. Potražite nas i u Vašem gradu!